Men's Circus & Clown Costumes
22 products
Transform into a colourful and comical character with a little help from our Mens Circus & Clown Costumes, inspired by the vibrant, eye-catching characters that have graced our children's parties and even appeared in famous horror films.

Clowns are hugely popular for a number of themed fancy dress parties, mainly Halloween, as they act as a scary yet unique alternative to a Zombie or Witch costume. Circus costumes in this category include our fantastic Jester outfit and Lion Tamer costume, amongst many more.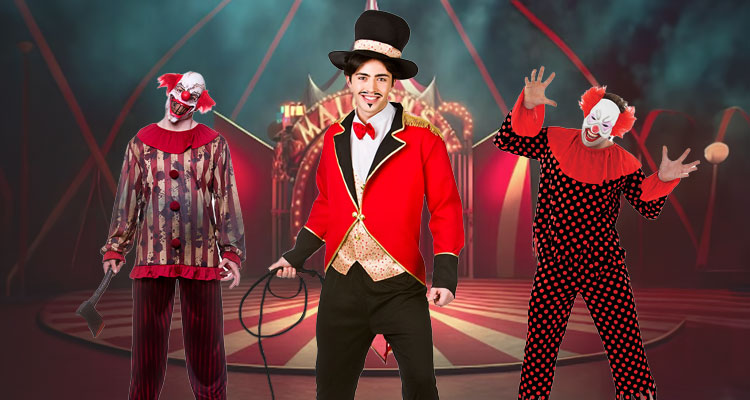 Men's clown and circus costumes from Mega Fancy Dress
With the success of The Greatest Showman in 2017 circus costumes continue to prove popular, especially our Men's Ringmaster Costume as you take a staring role at your own fancy dress party. We also stock a range of characters, such as our Beaded Lady fancy dress guaranteed to win some laughs at the stag do. 
We also stock a rainbow selection of Clown accessories to complete a number of costumes listed above, so you're never short of a trick or two if you're planning to impress your fellow partygoers.
Some of our all-time favourites are our Multi Coloured Clown costume, for a stand-out appearance perfect for a number of themed events, as well as our Mens Mine Artist costume to wow partygoers with your silent gestures and exaggerated expressions. 
Be sure to take a look below if you dare and recreate the appearance of famous horror clowns such as Pennywise the Dancing Clown and Captain Spaulding, or maybe opt for a brighter, more appealing look and disguise yourself in out Dotted Clown costume for a fun fancy dress appearance!