Men's Easter Costumes
8 products
In our men's Easter costume collection you'll find everything from fluffy chicks to the adorable Easter bunny and even Jesus outfits.

Embrace the rising trend of Easter-themed fancy dress, whether you're joining in the festivities with family or friends, we've got just the right outfit for you. Hop your way through our selection and discover something truly special and fun to wear this Spring!

So, whether you're searching for a cute and cuddly bunny costume or a religiously inspired outfit our men's Easter costume will put a spring in your step and with some of the most competitive prices online.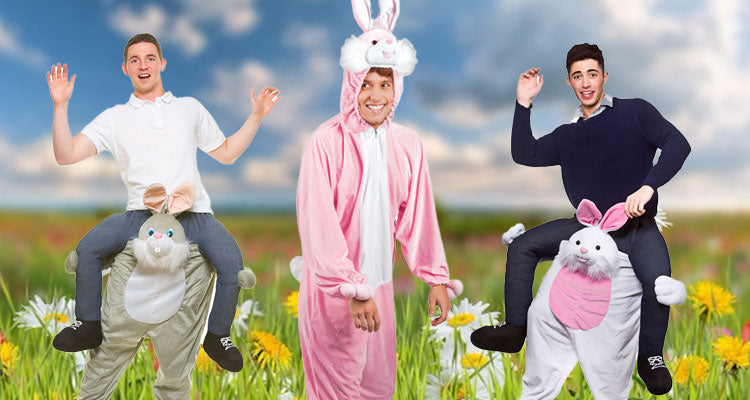 Mens Easter Costumes
Embrace the festive spirit of Easter with men's Easter costumes, where you can dive into the fun and significance of this springtime holiday. These costumes are a way to engage in Easter traditions and add a touch of joy and humor to celebrations, perfect for parties, events, or even Easter parades.
Men's bunny costumes are a fantastic choice for those looking to embody the playful essence of Easter. These costumes often feature a full bunny suit in white or pastel colors, complete with long ears and a fluffy tail. Whether hopping around at an Easter egg hunt or entertaining kids, a bunny costume is a delightful way to bring the Easter Bunny to life and spread cheer.
Chicken costumes for men offer a humorous and light-hearted way to celebrate Easter. These outfits might include a fluffy yellow bodysuit with red accents, mimicking a chicken's appearance, and often come with a headpiece featuring a beak and crest. Men's chicken costumes are great for a fun twist on Easter festivities, perfect for those who enjoy a bit of comedy with their costume.
Jesus costumes provide a more traditional and respectful option, reflecting the religious significance of Easter. These costumes typically include a robe, a sash, and sometimes a crown of thorns or a beard. Wearing a Jesus costume can be a way to participate in religious processions or plays, embodying the solemn and reflective aspect of the holiday.
In summary, men's Easter costumes, including bunny, chicken, and Jesus outfits, offer a range of options for celebrating the holiday. Whether you're aiming for playful fun with animal costumes or acknowledging the religious aspects with a Jesus costume, these outfits provide a way to engage in the Easter spirit and make the holiday memorable.