New Years Party Costumes
179 products
Dress up in dazzling New Year's party costumes and get ready for a night full of celebration, dancing, and retro fun! Imagine yourself in a sparkling ABBA costume, with shiny jumpsuits and bell-bottoms, ready to groove to classic hits, or decked out in a vibrant 80s outfit, complete with neon colors and big hair, perfect for rocking out to the decade's iconic tunes. These New Year's party costumes are perfect for ringing in the new year at themed parties or just having a blast with friends and family. They're great for reliving the glory of past eras, dancing the night away, and welcoming the new year with style and joy. So, pick your favorite retro costume, whether it's disco fabulous or 80s cool, and get ready for a night of singing, dancing, and starting the new year with a memorable bang!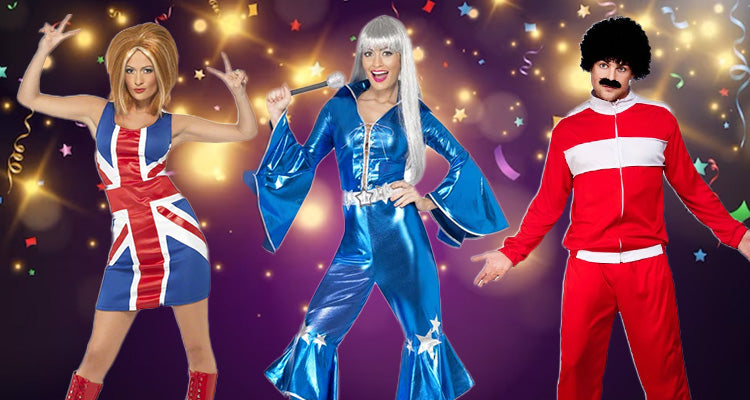 New Years Party Fancy Dress Costumes
Celebrate the excitement and joy of New Year's Eve with party costumes that bring back the vibrant styles of different eras, like ABBA, the 80s, and the 90s. These costumes aren't just regular outfits; they're a way to step into a time machine of fashion and fun, perfect for ringing in the new year at a themed party or any festive celebration.
ABBA costumes are a fantastic choice for fans of the iconic Swedish pop group and anyone who loves the glitter and glam of the 70s. These outfits often feature flashy jumpsuits, shimmering sequins, and bold prints, capturing the unique and lively spirit of ABBA. Whether you're dancing to "Dancing Queen" or "Mamma Mia," these costumes are perfect for a New Year's Eve party that's all about fun and music.
80s costumes bring the colorful and eccentric fashion of this decade into your New Year's celebration. Think neon colors, leg warmers, and off-the-shoulder tops. Men might go for rock star-inspired outfits, complete with leather jackets and bandanas, while women can embrace the aerobics craze with bright leotards and headbands. These costumes are ideal for a night of nostalgia and upbeat 80s hits.
90s costumes offer a throwback to the grunge and pop culture of this decade. You might see women in plaid skirts and crop tops, channeling the iconic looks of pop stars and movie characters, while men can don baggy jeans and band T-shirts for a more laid-back, grunge-inspired vibe. These outfits are great for partygoers who want to relive the diverse and dynamic fashion of the 90s.
In summary, New Year's party costumes like ABBA, 80s, and 90s ensembles provide a fun and exciting way to celebrate the arrival of a new year. They allow you to enjoy the evening while paying homage to the memorable fashion trends of these iconic decades.