Nightmare On Elm Street Costumes
15 products
Give nightmares with our spine-chilling Freddy Krueger Costumes from the famous Horror film Nightmare On Elm Street! Since the film was released in 1984, Freddy Kruger has been petrifying people all year round, making this Halloween Movie character a popular choice for Halloween dress up!

Pray upon your victims dressed up in red and green stripes as you terrify them with your killer claws! We have a scarily good selection of Freddy Kruger costumes for adults and kids, including Miss Kruger and even Freddy Kruger dog costumes! Complete your Nightmare On Elm Street fancy dress with our Halloween costume accessories, including Freddy hats, gloves and terrifying Freddy Kruger masks!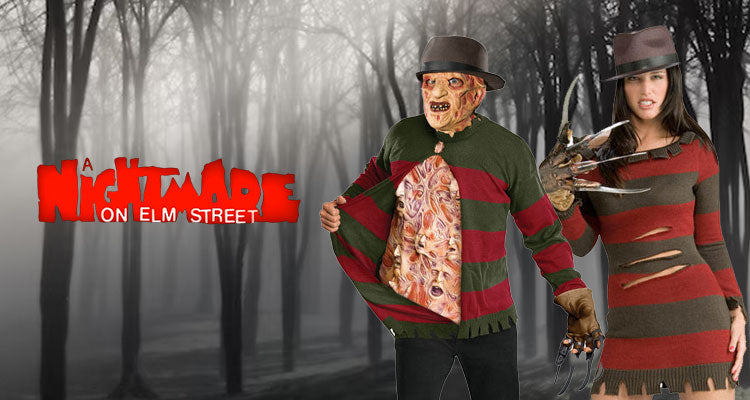 Prepare to unleash nightmares with our bone-chilling Freddy Krueger Costumes, inspired by the iconic Horror film Nightmare On Elm Street! Ever since its spine-tingling debut in 1984, Freddy Krueger has been haunting the dreams of thrill-seekers year-round, solidifying his status as a perennial favorite for Halloween dress-up.

Step into the role of this terrifying movie character, dressed in the unmistakable red and green stripes that send shivers down spines. Our selection boasts an array of Freddy Krueger costumes, available for both adults and kids, and we haven't forgotten your furry friends either—check out our Freddy Krueger dog costumes for a truly spooktacular family ensemble!

To complete your transformation into the stuff of nightmares, explore our assortment of Nightmare On Elm Street costume accessories. From Freddy hats to menacing gloves and spine-tingling Freddy Krueger masks, we provide every chilling detail you need to craft the ultimate Nightmare On Elm Street fancy dress experience.