Popeye Costumes
2 products
Well, blow me down!

Our excellent Popeye fancy dress costumes present the life of Popeye as a comic, film, game and cartoon hero. Eat a can of delicious spinach and show off some muscles in our popular Popeye fancy dress costume.

We also have Olive Oyl outfits to woo any sailor and complete an awesome couple or group costume idea. These outfits could also be a perfectly quirky twist for sailor themed parties - toot-toot!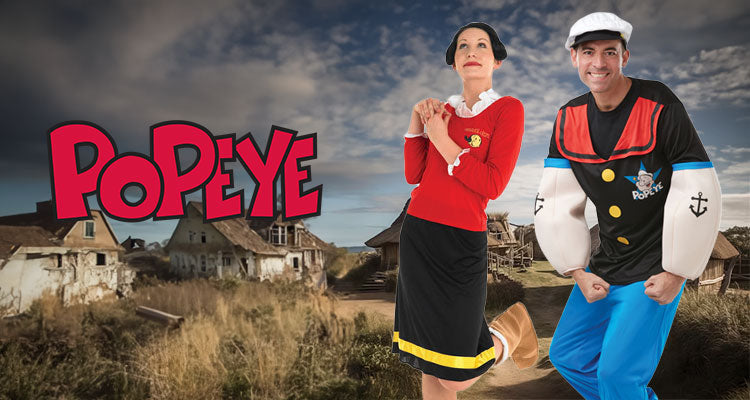 Popeye Fancy Dress Costumes
Set sail on a fun and nostalgic adventure with Popeye costumes, where men and women can step into the classic world of the beloved sailor and his charming partner. These costumes are a way to bring to life the memorable characters from the iconic Popeye cartoon, perfect for themed parties, Halloween, or any event where you want to add a touch of vintage fun.
Men's Popeye navy costume is a hit for those who want to embody the strong and spinach-loving sailor. The costume typically includes a sailor shirt, blue pants, and a white sailor cap. It's perfect for men who want to show off their 'strong to the finish' attitude and have a laugh with friends and family.
For women, the Olive Oyl costume lets you become Popeye's endearing and spirited love interest. Olive Oyl's costume often features her signature red long dress with white collar and black wig with her unique bun hairstyle. This outfit is great for women who want to bring to life the classic cartoon character with her quirky and lovable personality.
Together, the Popeye and Olive Oyl costumes make for a fantastic couple's outfit, perfect for parties where you want to make a duo appearance. These costumes not only bring back nostalgic memories of the Popeye cartoon but also offer a fun and unique way to dress up for any costume occasion.
In summary, Popeye and Olive Oyl costumes provide a delightful way for men and women to step into the shoes of these classic cartoon characters. Whether you're sailing the seas as Popeye or capturing hearts as Olive Oyl, these costumes are sure to bring smiles and a bit of vintage charm to any event.