Pumpkin Halloween Fancy Dress Costumes
20 products
Shop our patch full of Pumpkin fancy dress costumes for adults and kids of all ages! We have everything from super cute Pumpkin tabards to evil Pumpkin fancy dress!

Dress your little ones up in our adorable Pumpkin fancy dress, perfect for little ones who don't want a super scary Halloween costume, including Pumpkin Witches & fairies, traditional bright orange Pumpkins and inflatable Jack-O-Lantern fancy dress. We also have a more sinister selection of Pumpkin costumes including Bleeding Evil Pumpkins and our Goosebumps Jack-O-Lantern costume.
Complete your Halloween Pumpkin fancy dress with our orange face paint, hooded Pumpkin capes and bright orange tights!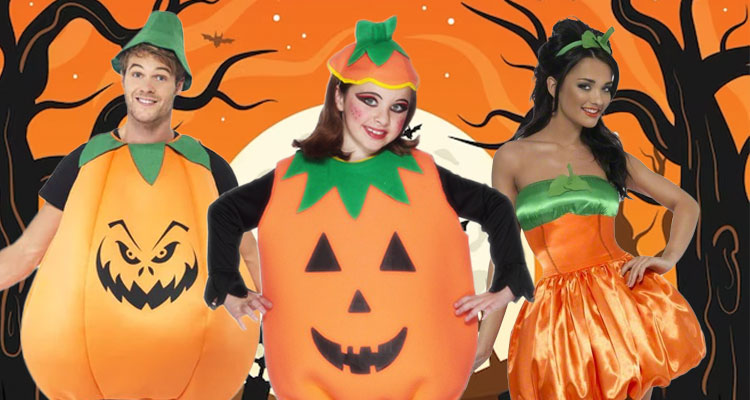 Embrace the Halloween Spirit with Pumpkin Costumes
Get ready to immerse yourself in the enchanting world of Halloween with our delightful pumpkin costumes. Whether you're gearing up for a spooktacular Halloween party, a night of trick-or-treating, or simply seeking to embody the cheerful essence of this bewitching holiday, our outfits capture the whimsical charm of pumpkins. Imagine yourself as a grinning Jack-o'-Lantern, a playful pumpkin patch farmer, or a classic pumpkin mascot, ready to bring the spirit of Halloween to life.
Channel the Haunting Season: Become a Symbol of Halloween
Pumpkins are synonymous with the magic and mystery of Halloween, and our costumes allow you to fully embrace the festive and enchanting spirit of this beloved holiday. Whether you're donning a plump and orange pumpkin suit, complete with a smiling face and green stem hat, or you prefer the rustic and charming look of a pumpkin farmer, our outfits capture the essence of Halloween's vibrant energy and celebration.
Complete Your Pumpkin Look: Accessories for Extra Halloween Fun
No Halloween pumpkin costume is complete without the right accessories. Enhance your pumpkin-themed ensemble with our matching accessories, ensuring you're ready to spread Halloween joy and excitement. Think about adding pumpkin-themed hats, gloves, or even a plush pumpkin basket for collecting treats during your trick-or-treat adventure. These details add an extra layer of authenticity to your look, making you the ultimate embodiment of Halloween-inspired festivity.
Enter the Spooky Season: Relive the Magic of Halloween
Halloween is a season filled with magic, mystery, and spooky delights, and our costumes allow you to step into this bewitching and thrilling world. Whether you're a fan of haunted houses, ghostly tales, or simply indulging in sweet treats, our outfits capture the iconic styles and the spirit of Halloween. Prepare to spread smiles and laughter as a jolly pumpkin, ready to make the most of the spookiest and most exciting holiday of the year.