Snowman Costumes
19 products
If you love playing in the snow and making snowmen why not transform yourself into one this Christmas? We have a great range of Snowman costumes for adults and kids, we have every Snowman costume you could ever want, including Mr & Miss Snowman costumes, Snowman mascots, Piggyback Snowman fancy dress and giant Inflatable Snowman outfits! Not forgetting our Frozen Olaf costumes, so you can give everyone warm hugs at your next Christmas-themed fancy dress party!

Finish your festive fancy dress with our Carrot Nose accessory, add a scarf and hat and you are good to go!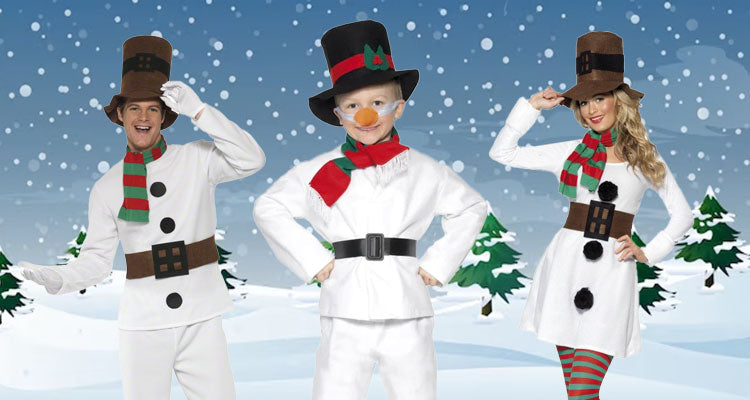 Snowman Costumes
Get ready to embody the charming spirit of winter with our fantastic collection of snowman costumes. 'Tis the season to embrace the frosty allure of snowmen, whether you're a man, women, girl or boy.
Dive into a world of wintery wonder as you explore our extensive selection of snowman costumes. Whether you're gearing up for a snowy-themed party, a festive gathering, or just want to spread the joy of winter wherever you go, we've got you covered. Our range includes a variety of snowman costumes, from classic designs featuring carrot noses and top hats to more unique and creative options. No matter your snowman style, we have the perfect costume waiting just for you.
When winter arrives, be the embodiment of the frosty season with our remarkable selection of snowman costumes. Elevate your festive look and bring smiles to those around you. With our range, winter isn't just a season on the calendar; it's an opportunity to become a living snowman and spread the joy of the cold. Explore our captivating collection and make this winter truly memorable.
Whether you're a fan of traditional snowman attire or want to make a playful statement with a unique design, our snowman costumes offer a delightful way to celebrate the magic of winter. So, don your favorite snowman costume, embrace the chilly spirit, and let the frosty festivities begin as you make this winter a season to remember in style.