Star Wars Accessories
12 products
Blast off into a galaxy of adventure with Star Wars accessories, perfect for adding that extra touch to your space-faring escapades! Imagine yourself slipping on a furry Chewbacca mask to become the beloved Wookiee, or wearing a sleek Stormtrooper helmet for that iconic look. These accessories are amazing for themed parties, movie events, or just a day of galactic role-play at home. Star Wars accessories like gloves, masks, and helmets let you dive deeper into the universe of your favorite space saga, making your character feel incredibly real. They're not just accessories; they're your ticket to joining the epic Star Wars adventure, bringing the excitement and drama of the movies right into your world. So, gear up with your Star Wars goodies and get ready for an out-of-this-world experience!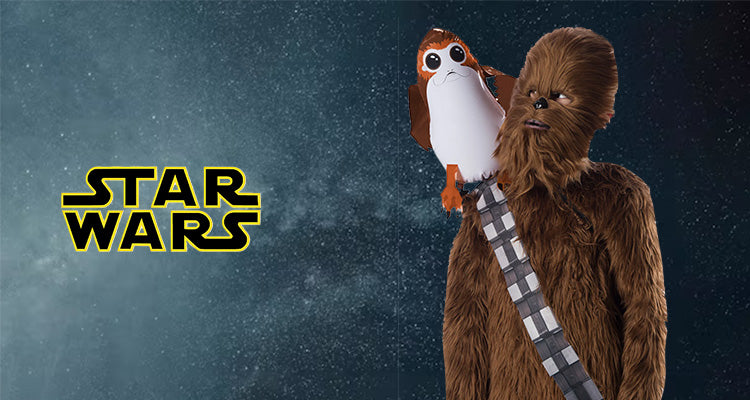 Star Wars Accessories
Shop our Star Wars accessories, where fans of all ages can add the finishing touches to their Star Wars costumes. These accessories are essential elements that bring realism to the portrayal of these beloved characters.

The Porg shoulder sitter is a delightful accessory for fans of the newer Star Wars trilogy. This cute and lifelike representation of the adorable creature from "The Last Jedi" perches comfortably on your shoulder, adding a quirky touch to your Star Wars look. It's the perfect addition to your outfit and is sure to be a hit with fans of all ages.

Chewbacca masks are a must-have for fans of the beloved Wookiee. These masks often come with detailed fur, providing an immersive experience. Whether for cosplay, a themed event, or just for fun, the Chewbacca mask is a fantastic way to embody one of the saga's most iconic characters.

Character gloves, such as those of Darth Vader, Captain Phasma, or Kylo Ren, provide the finishing touch to these characters' costumes. These gloves are designed to replicate the look of each character's hands, whether it's the black leather of a Sith Lord or the utility gloves of a Jedi, adding an extra layer of authenticity to your outfit.

Stormtrooper helmets are a classic and popular choice. These helmets are crafted to resemble the iconic look. They're essential for anyone looking to portray a Stormtrooper.

Pair these Star Wars accessories with adult or kids' Star Wars costumes to create a fully immersive and authentic look. Whether you're attending a cosplay event, a movie premiere, or celebrating at a themed party, these accessories are the perfect way to enhance your Star Wars character portrayal and show off your fandom.