Women's Cowgirls & Indians Costumes
22 products
Saddle up, partner! Cowgirls & Indians have been a classic choice for fancy dress costumes for decades. Embrace the spirit of the Wild West with our extensive range of Western-styled outfits that are perfect for transforming yourself into a stunning Wild Western beauty. Whether you're yearning for a classic cowgirl or an enchanting Indian costume, we have a wide selection to suit your fancy dress needs.

So, dust off your boots, grab your hat, and get ready to ride into the sunset in style with our Cowgirls & Indians fancy dress costumes. Whether it's a costume party, a themed event, or simply an opportunity to channel your inner Wild West spirit, our range will ensure you make a memorable impression on any occasion. Yeehaw!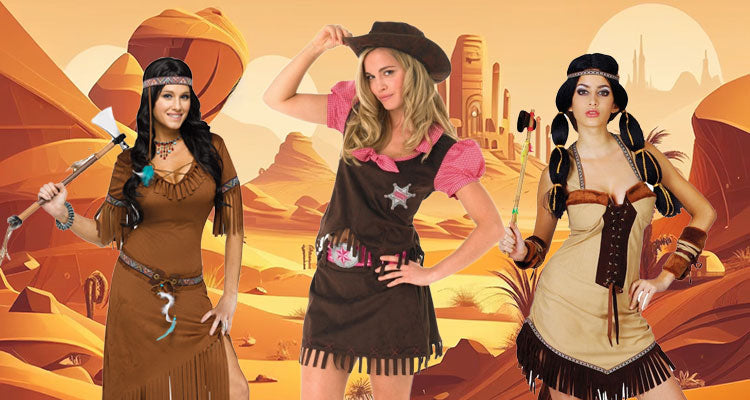 Shop our range of Women's Cowgirl Costumes & Accessories
Our Western-themed costumes are designed to transport you to the era of cowboys, outlaws, and frontier adventures. We have the accessories to complete your Wild Western look, from cowboy waistcoats to feathered headdresses and beaded jewellery.
But wait, there's more! In addition to the traditional Cowgirl and Indian costumes, we now proudly stock a variety of fantastic Saloon Girl fancy dress costumes. These glamorous outfits capture the allure of the Wild West's infamous saloons and are perfect for attending a Wild Western-themed fancy dress party.
We also stock a range of Cowboy hats perfect for your next festival. With new iridescent and feathered styles available in pink and white, cowboy hats are the must-bring accessory for your next concert or event.