Women's Pirate Costumes
36 products
Ahoy Matey! Come aboard our fine vessel and view our huge range of women's pirate fancy dress perfect for turning you into the hottest swashbuckling pirate on all the seven seas.

Our fantastic and versatile range includes everything: Sexy pirate costumes, classic pirate costumes and pirate queen costumes perfect for any budget.

As well as our range of Women's pirate costumes, we also have a huge range of Women's pirate accessories perfect for customising and completing your look including treasure chest handbags, pirate swords, pirate wigs & of course pirate swords. With so many options to choose from, you are guaranteed to find the perfect Ladies' pirate costume.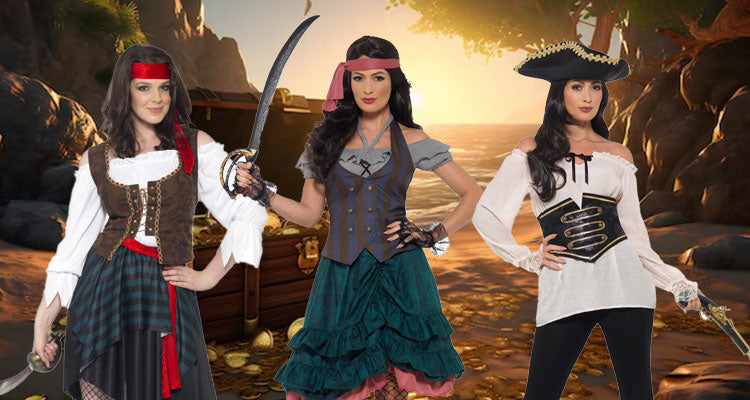 Womens Pirate Costumes
Embark on a swashbuckling adventure with women's pirate costumes! These outfits are perfect for ladies who love to step into the role of daring and fearless pirates from tales of the high seas.
Women's pirate costumes often feature stylish and bold designs. You might find a costume with a frilly pirate blouse, a corset or waistcoat, and a swishy skirt or sleek pants. To top it off, many costumes come with a pirate hat or bandana, and sometimes accessories like a sash, an eye patch, or even a toy sword.
These costumes are fantastic for all sorts of fun occasions, like themed parties, Halloween celebrations, or any event where you want to make a dramatic entrance. They come in a variety of styles, from elegant and sophisticated to rugged and adventurous, so you can choose the pirate look that suits you best.
Wearing a pirate costume, you can feel like you're sailing across the ocean, leading your crew on a treasure hunt, or engaging in thrilling adventures. It's great for acting out stories, enjoying a night out with friends, or taking part in a theatrical production.
So, if you're a woman looking to channel your inner pirate and have some exciting fun, a pirate costume is an excellent choice. It's all about embracing your boldness, enjoying the moment, and creating your own unforgettable pirate saga. Ahoy, mateys!
Accessorise your pirate costume with our pirate accessories.