Women's Plus Size Costumes
67 products
A Wise man once sang that Some Girls are bigger than others and here at Mega Fancy Dress we embrace the fuller figure with our huge range of plus-size fancy dress costumes for Ladies of all shapes and sizes!

Our exquisite range of Plus Size Fancy Dress Costumes for Women includes everything that you could ever think of, to suit any theme or budget. You can be a swashbuckling Pirate in our women's plus size pirate fancy dress costume, or maybe you fancy something a bit more feminine? in which case why not try a chic, flattering Can Can Saloon Girl costume perfect for a Wild West theme party?

Whatever you choose we are sure to have it with our huge range of Plus Size Fancy Dress Costumes for Women.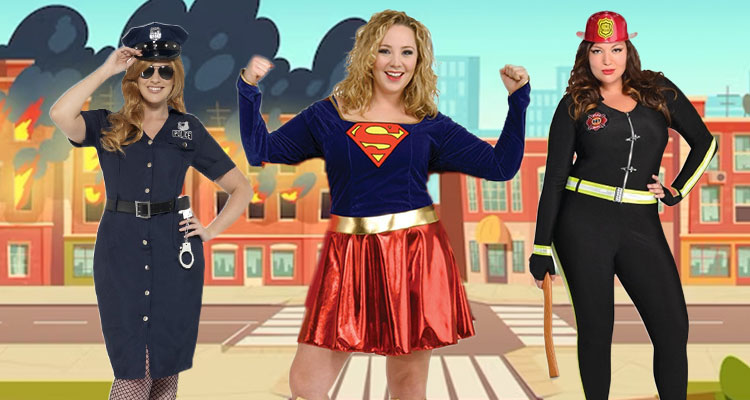 Ladies Plus Size Costumes 
Venture into the inclusive and diverse world of women's plus-size costumes, where style meets comfort across a variety of themes. These costumes aren't just outfits; they're a way for women to confidently express themselves and embrace their favorite characters, professions, or eras, regardless of size.
Plus-size superhero costumes empower women to channel their inner strength and heroism. From Wonder Woman's iconic armor to supergirl's suit, these costumes come in designs that flatter and celebrate the plus-size figure. They offer a way for women to embody the qualities of their favorite heroines - strength, bravery, and resilience - and are perfect for comic conventions, themed parties, or Halloween celebrations.
Nurse costumes in plus sizes are a popular choice, blending a touch of classic charm with modern sensuality. These costumes often include a dress, apron, and nurse's cap, designed to fit and flatter the plus-size figure comfortably. They are great for themed events, costume parties, or playful dress-up, allowing women to explore a professional role with a fun and flirty twist.
Hippie costumes cater to those who love the free-spirited and colorful vibes of the 60s and 70s. Flowing dresses, tie-dye prints, fringe vests, and headbands are common elements. These costumes embrace the essence of the hippie movement - peace, love, and freedom - and are ideal for retro parties, music festivals, or any occasion where a laid-back, bohemian style is desired.
Plus-size Halloween costumes offer a range of options, from spooky and gothic to whimsical and fun. Whether it's a classic witch, a vampy vampire, or a fun, character-inspired outfit, these costumes are designed to make women feel fabulous and comfortable. They provide an opportunity to get creative and enjoy the Halloween festivities in style.
In summary, women's plus-size costumes in themes like superheroes, nurses, hippies, and Halloween provide an array of choices for women to express themselves and enjoy various events. These costumes are designed to celebrate and flatter the plus-size figure, allowing every woman to feel confident and stylish in her costume choice.