Movie Plus Size Costumes
9 products
Dress up in plus-size movie fancy dress costumes and get ready for a day full of action-packed adventures and fun! Imagine yourself swinging around like Spider-Man in a cool red and blue suit, catching ghosts as a Ghostbuster in a jumpsuit with a special backpack, or protecting the city like Batman in a dark, heroic costume. These fancy dress costumes are perfect for movie-themed parties, playing with friends, or just having a fun time at home. Movie plus-size fancy dress costumes are great for stepping into the roles of your favorite movie characters, from climbing walls like Spider-Man, to solving spooky mysteries like the Ghostbusters, or saving the day like Batman. So, choose your favorite movie hero costume and get ready for a day of exciting adventures, action, and lots of movie fun!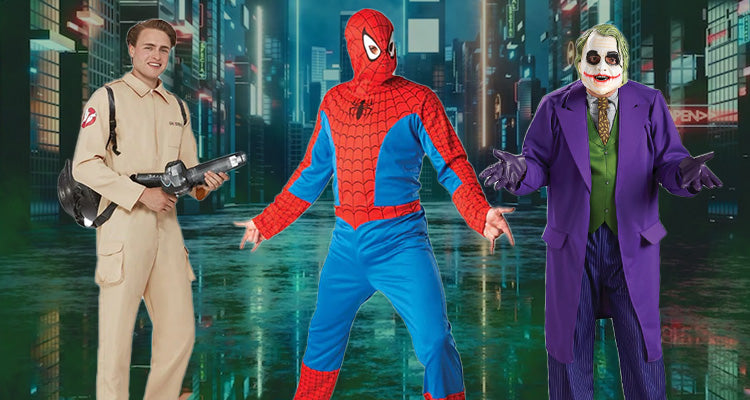 Plus Size Movie Fancy Dress Costumes
Dive into the exciting world of movie-themed plus-size costumes, where fans can bring their favorite film characters to life. These costumes are a way for men and women of all sizes to embody the thrill and adventure of the big screen, perfect for movie-themed parties, Halloween, or any costume event.

Ghostbusters costumes offer a nostalgic and fun way to step into the shoes of the iconic paranormal investigators. These plus-size costumes typically include the classic Ghostbusters jumpsuit complete with the famous logo, and sometimes come with accessories like a proton pack. They're great for both men and women looking to capture the spirit of this beloved movie.

Spider-Man costumes allow fans to swing into action as the famous web-slinger. The detailed plus-size suits capture Spider-Man's signature look, with the red and blue webbed design. These costumes are ideal for those who want to portray the agility and heroism of one of Marvel's most enduring characters.

Batman costumes in plus-size bring the Dark Knight to life. Whether it's the classic comic book style or the more modern, armored look from recent films, these costumes let fans embody the brooding intensity of Gotham's protector. Complete with the cape, mask, and bat emblem, they're perfect for men and women who admire Batman's blend of mystery and heroism.

The Addams Family costumes offer a range of characters to choose from, perfect for fans of the darkly comedic film. Women can dress up as the enigmatic Morticia or the quirky Wednesday, while men can transform into Gomez Addams. These costumes capture the unique charm and style of the Addams family, ideal for those who enjoy a touch of macabre humor.

In summary, movie-themed plus-size costumes like Ghostbusters, Spider-Man, Batman, and The Addams Family provide an inclusive way for men and women to celebrate their favorite films. They offer the chance to step into the roles of beloved characters, making any costume occasion more thrilling and enjoyable.