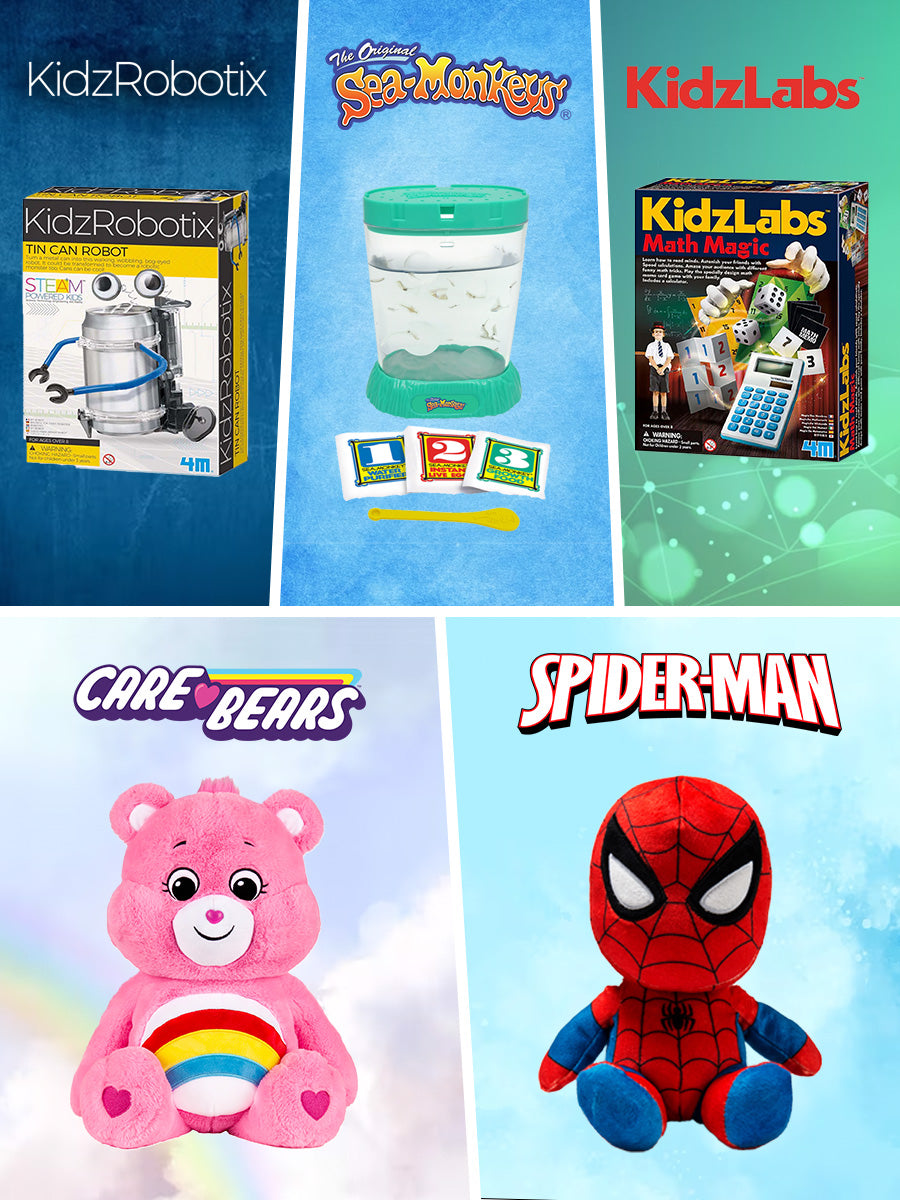 Christmas Care Bears
Celebrate Christmas with Care Bears like Wish Bear and Great Giving Bear with themed attire
Toys & Games
We have a great selection of Care Bears in all the classic colours and designs, we also stock My Little Pony figures and the hugely popular Cutetitos ranges - what furry friend will you find in your surprise pack?
Shop our new range of kids toys and games here!
Keel Toys
Take a look at our Keel Toys collection, featuring an array of adorable animals including cuddly teddy bears, majestic lions, and many more, each crafted with love and attention to detail!
FNAF Plushies
Take a look at our Five Nights at Freddy's plushies, showcasing iconic characters like Freddy, Chica, Foxy, and Bonnie, each designed with unique, eerie charm, perfect for fans of the thrilling game series!
Toys and Games
Welcome to a world of endless fun and entertainment with our extensive collection of toys and games. We believe that play is an essential part of childhood, and our selection reflects this belief. From classic care bears and plushies to the latest interactive toys that inspire creativity and learning, we have something to delight kids of all ages and interests.
Official Care Bears
Step into the heartwarming world of the Care Bears with our officially licensed Care Bears merchandise. These cuddly companions and accessories bring the magic of Care-a-Lot right into your home. Our Care Bears collection includes plush toys of many sizes, featuring your favorite Care Bear characters. Whether you're reliving nostalgic moments or introducing the next generation to the Care Bears' messages of love, friendship, and caring, our official Care Bears products are a must-have for fans of all ages.
KidzLabs
We are passionate about inspiring young minds, and our KidzLabs collection is designed to do just that. Encourage curiosity and creativity in children with our KidzLabs science toys. These hands-on kits are packed with exciting experiments and activities that inspire budding scientists to explore the wonders of the natural world and beyond. From chemistry sets to astronomy kits, our KidzLabs line fosters a love for learning through play, making science accessible and engaging for kids of various ages.
KidzRobotix
Ignite the passion for robotics and engineering with KidzRobotix. Our range of educational robotics kits empowers kids to build their own robots. Whether they're constructing a simple robot or embarking on more complex projects, our KidzRobotix kits provide a hands-on learning experience that promotes problem-solving skills, creativity, and STEM (Science, Technology, Engineering, and Mathematics) education. It's an exciting way for young minds to explore the world of robotics while having a blast.
Cocomelon
Bring the joy of Cocomelon to life with our delightful range of toys and merchandise. Cocomelon has captured the hearts of kids and parents alike with its educational and entertaining content. Our Cocomelon collection includes plushies of your favorite characters, interactive playsets, books, and more. These toys not only offer hours of entertainment but also support early childhood development by reinforcing important skills such as language, numbers, and social interaction. Explore our Cocomelon selection and let your child's imagination flourish with the beloved characters from this popular show.