All Toys & Games
244 products
Shop Our New Mega Toys Range Here!

We have toys and games for all ages, including classic Care Bears, My Little Pony and the hugely popular Cutitos! We also now stock a great range of Educational Toys from Green Science and National Geographic toys to KidzLabs sets!

Not to mention our Arts and Crafts kits, including a variety of different Mould and Paint sets to grow your own Crystals! Or have some outside fun with our games and activities from Nerf Guns and Super Soakers to the world record holding frisbee - the Aerobie 13" Pro ring!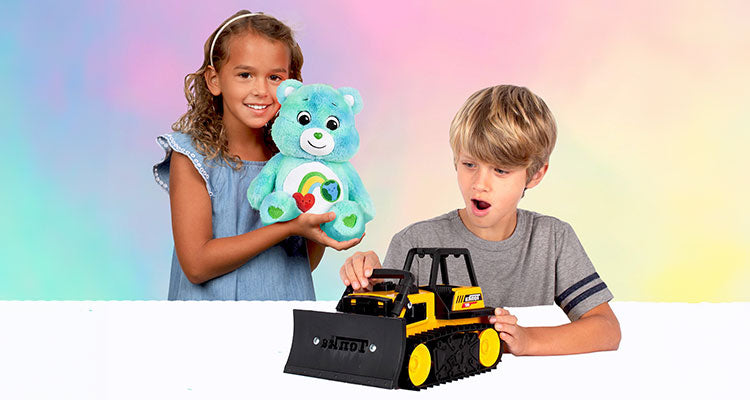 All Toys and Games
Shop our toys and games to discover a world of fun, creativity, and learning. Our extensive collection of toys and games encompasses a wide range of themes to delight children and the young at heart.
From the rugged excitement of Tonka trucks to the heartwarming charm of Care Bears, our officially licensed merchandise invites you to explore classic favorites. Dive into the joy of Cocomelon, where entertainment and education go hand in hand, fostering essential skills such as language and numbers.
Experience the wonder of Sea Monkeys as you hatch and observe tiny aquatic creatures in your own home, all while nurturing an appreciation for science and marine life. Relive nostalgic moments or introduce a new generation to the endearing Pound Puppies, offering hours of companionship and imaginative play.
Fuel your creative spark with our comprehensive arts and crafts supplies, providing everything from drawing and painting materials to sculpting kits and DIY projects. Ignite the desire for learning and exploration with our educational toys, designed to engage young minds and enhance cognitive, motor, and problem-solving skills.
At Mega Fancy Dress, we understand that play is not just fun; it's a pathway to growth and development. Our selection is curated to inspire creativity, ignite curiosity, and bring families together through play. Whether you're a fan of classic toys, beloved characters, or educational gems, we have something for everyone, making playtime an adventure of discovery and joy. Explore our diverse themes and let the magic of play come to life.