Nativity Costumes
If you are looking for a Nativity costume, you have come to the right place- we have a great range of Christmas Nativity costumes which are perfect for school plays and Christmas parties!

We have a merry medley of Nativity fancy dress costumes to choose from, including Wise Men, Mary, Joseph and Angel Gabriel, or if your little one is the star of the show, our Christmas star costume is the perfect choice! With our fast dispatch, your little one will be ready for their school play in time- they will look great too!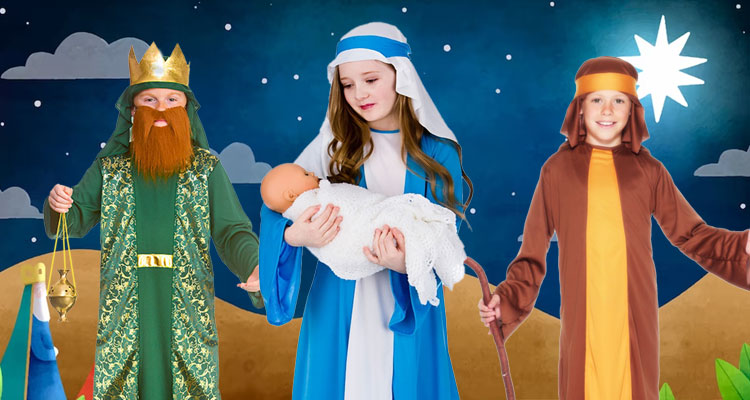 Christmas Nativity Costumes
Get ready to bring the magic of the Nativity story to life with our fantastic collection of Nativity costumes. 'Tis the season to embrace the spirit of this timeless tale, whether you're participating in a school play, a church event, or just want to recreate this cherished story in your own way.
Dive into a world of historical wonder as you explore our extensive selection of Nativity costumes. Whether you're gearing up for a role in the Holy Family, the shepherds, angels, or the Three Wise Men, we've got you covered. No matter your role in this heartwarming narrative, we have the perfect costume waiting just for you.
When the time comes to celebrate the Nativity story, be a part of this cherished tradition with our remarkable selection of costumes. Elevate your portrayal and bring authenticity to the story, fostering a deeper connection to its significance. With our range, Christmas isn't just a date on the calendar; it's an opportunity to honor and share the beauty of this age-old tale. Explore our captivating collection and make this Nativity portrayal truly memorable.
Whether you're stepping into the role of an angel, a shepherd, or a wise man, our Nativity costumes offer a meaningful way to celebrate the essence of the season. So, don your favorite Nativity attire, step into this cherished story, and let the festivities begin as you make this Christmas a season to remember in style.