Men's Halloween Costumes
136 products
Halloween isn't just for kids and our range of Men's Halloween Costumes means you can scare the living on Halloween Night. Feel a bit bloodthirsty? Why not try one of our Vampire and Dracula costumes. If you like blood but don't fancy a drink, then we've got Zombie and Horror Film Costumes sure to please.

If walking among the dead appeals, then why not check out or Ghost and Grim Reaper Costumes? We've also got Jesters, Fairytales, Devils and Ghost Pirates so whoever (or whatever) you want to be this Halloween Mega Fancy Dress has a costume that'll please.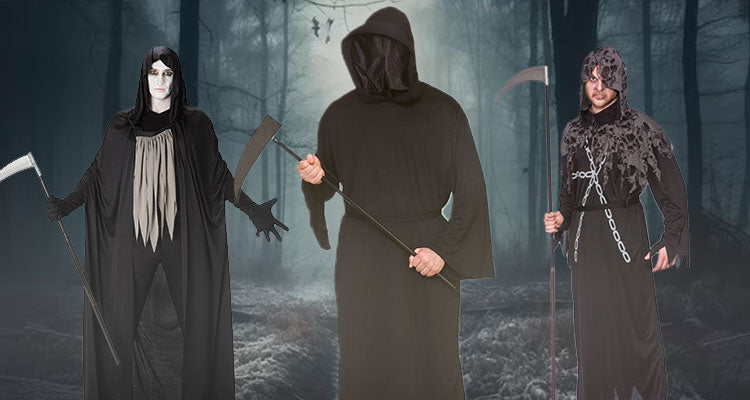 Explore Men's Halloween Fancy Dress Outfits
Embrace the eerie allure of Halloween with our stylish men's costumes. Whether you're attending a party, going trick-or-treating, or joining a costume contest, our outfits capture the spooky essence of the season. Picture yourself as a classic vampire, a menacing werewolf, or even a superhero or supervillain.
Complete Your Look: Halloween Accessories
No Halloween costume is complete without the right accessories. Elevate your spooky ensemble with our matching accessories. Think masks for mystery, fake weapons for authenticity, or special effects makeup for a ghoulish transformation.
Embrace the Halloween Spirit: Relive the Fright
Halloween blurs the line between the living and the supernatural, and our costumes immerse you in the haunting experience. Whether you're embodying classic monsters, pop culture icons, or crafting a unique character, our outfits capture Halloween's essence, bringing your imagination to life.
Get Ready to Haunt: Unleash Your Halloween Persona
Step into the world of Halloween and let your creativity shine with our men's fancy dress outfits. Whether you're a vampire, a werewolf, a superhero, or a supervillain, our costumes transport you to a realm of spookiness and delight. Put on your favorite ensemble, embrace the Halloween spirit, and get ready to haunt the night with your unforgettable look.