Christmas and Nativity Fancy Dress Costumes
339 products
Celebrate the magic of Christmas and relive the timeless story of the Nativity with our costumes for adults and kids alike!

For kids, we have adorable nativity characters like baby Jesus, Mary, Joseph, shepherds, and angels, ensuring a heartwarming Christmas pageant or school play. The little ones will shine brightly especially if they are in our Shining Star costume.

Adults can join in the fun too, with an assortment of Santa Claus, Mrs. Claus, reindeer, and elf costumes. Embrace the holiday cheer as you spread joy at gatherings and parties, making this Christmas one to remember.

Create cherished memories with our Christmas and Nativity costumes that beautifully capture the essence of this special time of year.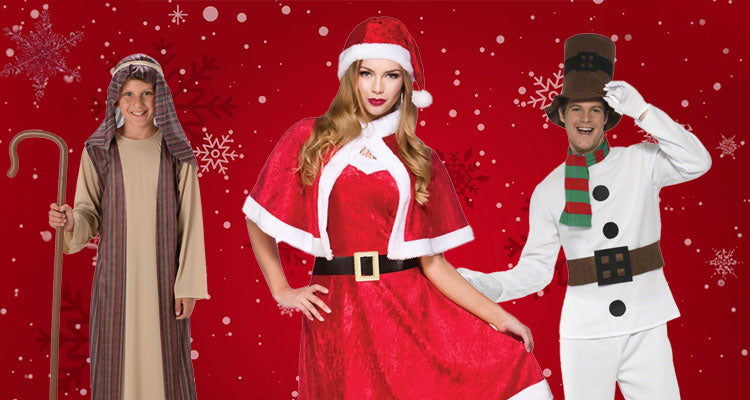 Shop Christmas Costume Outfits for Adults & Kids
Embrace the festive spirit with our extensive collection of Christmas costumes for both adults and kids. Whether you're getting into the holiday mood for a party or gearing up for a Nativity play, we have an array of festive outfits to suit your needs. From the jolly reds of Santa Suits to the endearing animal costumes for reindeer and camel roles, our selection spans the entire spectrum of Christmas cheer.
Christmas Fancy Dress For Every Theme
Our Christmas fancy dress covers every possible theme you can think of. Want to prance around as one of Santa's reindeer or spread goodwill as St. Nick himself? Or are you looking for a role in the workshop as one of Santa's helpers? Whatever your preference, our range has something for everyone, with a mix of traditional designs to more creative and novel outfits to make your festive celebrations uniquely memorable.
Memorable Christmas Outfits
Christmas is more than just a day; it's a season filled with joy, cheer, and the creation of lasting memories. Our high-quality costumes allow you to immerse yourself in the holiday spirit fully. You'll be sure to add an authentic touch to your celebrations. Make this Christmas season one to remember by donning an outfit that sparks joy and festivity.