Santa Suit Costumes
112 products
Ho Ho Ho Merry Christmas! Celebrate this years Christmas festivities with our fantastic range of men's and Womens Santa Claus Fancy Dress Costumes! We stock Santa Suits of all varieties and sizes for Men, Ladies and Children so nobody has to miss out on the fun. Santa costumes make a great Christmas fancy dress idea for couples, try going to your event as Father Christmas and a Sexy Miss Claus -

You can even dress the kids up as your Little Elf Helpers! Our range of Adults and Kids Santa costumes are perfect for any festive occasion, from school plays to Christmas parties and family gatherings so don't be a Grinch and dress to impress this Christmas!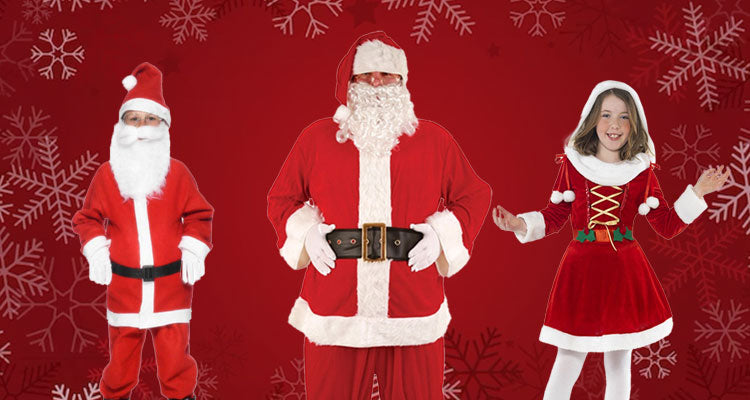 Santa Suit Costumes
Get ready to embody the spirit of Christmas with our fantastic collection of Santa suits. It's the season of spreading joy, and what better way to do so than by stepping into the iconic red suit of Santa Claus himself?
Dive into a world of holiday cheer as you explore our extensive selection of Santa suits. Whether you're a man, woman, boy, or girl gearing up for a festive appearance, a charity event, or simply want to embrace the role of Santa for your family and friends, we've got you covered. Our range includes classic Santa suits with all the trimmings, from the red coat and trousers to the iconic hat, belt, and even Santa's signature beard. No matter your Santa style, we have the perfect suit waiting just for you.
When December 25th arrives, be the embodiment of the holiday spirit with our remarkable selection of Santa suits. Elevate your festive look and bring smiles to faces both young and old. With our range, Christmas isn't just a date on the calendar; it's an opportunity to become the symbol of joy and generosity. Explore our captivating collection and make this Christmas truly magical.
Whether you're a girl dreaming of a traditional Santa look or a boy wanting to add your unique twist to the classic outfit, our Santa suits offer a delightful way to embrace the most wonderful time of the year. So, don your favorite Santa suit, spread happiness wherever you go, and let the festivities begin as you make this Christmas a season to remember in style.